Wood Floor Refurbishing | Hudson Valley, NY
Commercial and Residential Wood Floors Rejuvenated
We can make your wood floors fresh, clean, and inviting once again.
Wood flooring is beautiful. When it is in great condition it creates a stunning backdrop to your environment, but when the finish becomes obscured by contaminants such as dust, soils, air pollution, oils, and mop residue, wood flooring can have the complete opposite effect. At Nadoka Luxury Cleaning, we understand that your hardwood flooring is a significant investment and deserves the very best workmanship and care. You can trust our knowledgeable team to dramatically improve the appearance of your hardwood floors. Residential and commercial and property owners and managers in the Hudson Valley area count on us to rejuvenate the floors in their homes, offices, hotels, health care facilities, restaurants, and stores.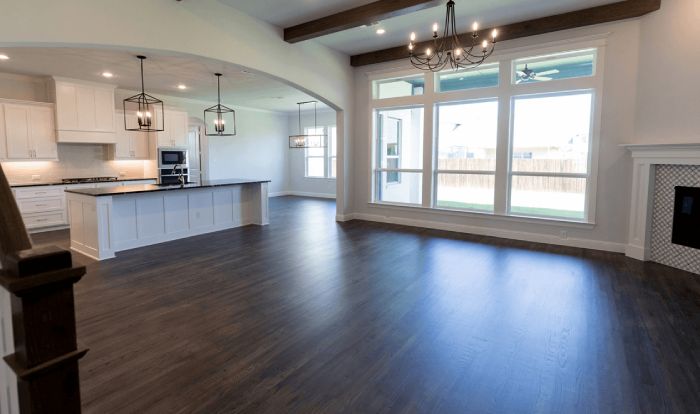 The Difference Between Wood Floor Refurbishing and Refinishing
Wood floors do not always require sanding and refinishing, which is not only messy and smelly, but also disrupts your normal routine. This is especially important for commercial clients, because refinishing can cause inconvenience to guests, clients, patrons, and staff. Our simple deep cleaning process rejuvenates an existing polyurethane finish. For floors without a sealed polyurethane finish, we can wax and buff. Either way, we'll leave your wood floors and baseboards in your entries, hallways, and common areas fresh, clean, and beautiful, achieving impressive results at a fraction of the cost and hassle of a full refinishing.
At-A-Glance Wood Floor Services
vacuum with equipment fitted with HEPA filtration
scrub the floor with a weighted floor machine with nylon floor pads
pH-neutral, non-toxic cleaner formulated specifically for hardwood
second vacuum to remove particulate created from scrubbing
Post-Construction Cleaning
remove paint
remove drywall compound
remove particulate created from the construction process
minor scratches
minor dents or dings
not compatible with sealed polyurethane finishes
minimizes the appearance of damage and traffic patterns
no harsh chemicals or messy sanding
renews reflectivity compared to cleaning alone
Regularly scheduled maintenance is customized per your specific needs and requirements.
Is your wood floor dull, unsightly, or damaged? If you are in the Hudson Valley area or any of the other areas we service and your wood floor needs some professional attention, contact us online or call (845) 201.0080 for a free estimate. We look forward to hearing from you!
TESTIMONIALS AND REVIEWS
Our Clients Say It Best...
Take a moment to see what our clients tell us and tell the world about us.
Richmond Aidoo arrived with a smile, got set up quickly, was thorough in his cleaning, neutralizing and sealing our kitchen countertops (black granite and pegmatite). He then completely polished them
Susan Glusica
I have used Richmond for our office for 6+ months now. Top notch service and unbelievably clean. And excellent prices for the service. my only mistake is not using them
James B.
Nadoka Luxury not only cleaned the house they made it feel more inviting and noticeable to people who come by our house. They thought we got new paint and new
Franz C.