Travertine Refinishing and Repair | Hudson Valley, NY
Travertine Restored to Like New
Nadoka Luxury Cleaning, can restore the elegance to any travertine surface that has become dull, stained, scratched, etched, chipped, or otherwise damaged.
We provide expert interior and exterior travertine services for all kinds of properties, from offices and other commercial properties, warehouses, retail stores, restaurants, and hotels to homes, apartments, condos, and more. Whether you need minor services like having your travertine cleaned and sealed or major services like extensive repair and restoration, we provide a full range of travertine care and maintenance services.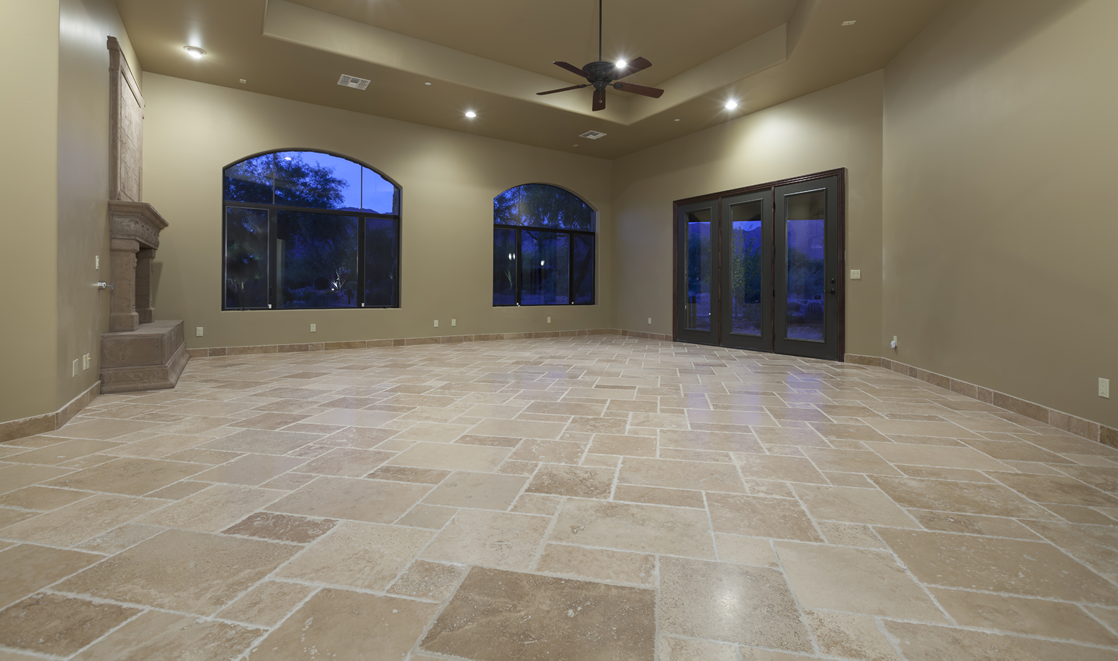 Travertine Services Overview
Travertine can be honed and polished to a stunningly beautiful finish: satin/matte, polished, or custom. The holes that naturally occur in this type of stone can be cleaned and left alone for a weathered, rustic look or filled with specialty fillers tinted to blend with the surrounding stone for a smoother, more elegant appearance. Either way, your travertine should be professionally cleaned every one to two years, and in many cases, sealed, as well.
Dirt can become trapped in the naturally occurring holes in travertine. We can deep clean with our professional equipment and cleaners.
Our refinishing services include the finish, or change it, to your desired level of sheen, from matte to a high polish, and vice versa.
Travertine has naturally occurring holes. We can fill these holes through a process called floating.
If your travertine needs to be sealed or enhanced we can do this with premium quality products.
We can grind away excess stone to create a flat, level surface if your travertine tiles are uneven or if you want your tile floor flattened to the grout lines to facilitate easier cleaning.
Don't replace your damaged travertine! Chips, cracks, and broken tiles can be repaired using filler and specialized equipment. We can hone and polish to match the repair site with the existing finish.
Our craftsman can, in many cases, remove an unrepairable tile without damaging neighboring tiles and reinstall a new tile.
We're here for you, whether you are seeking guidance on how to remove travertine stains and discolorations yourself or you want us to treat them.
Is your travertine dull, dirty, etched, or otherwise damaged? Are fillers popping loose? If you are in the Hudson Valley area or any of the other areas we service and your travertine needs some professional attention, contact us online or call (845) 201.0080 for a free estimate. We look forward to hearing from you!
TESTIMONIALS AND REVIEWS
Our Clients Say It Best...
Take a moment to see what our clients tell us and tell the world about us.
Richmond Aidoo arrived with a smile, got set up quickly, was thorough in his cleaning, neutralizing and sealing our kitchen countertops (black granite and pegmatite). He then completely polished them
Susan Glusica
I have used Richmond for our office for 6+ months now. Top notch service and unbelievably clean. And excellent prices for the service. my only mistake is not using them
James B.
Nadoka Luxury not only cleaned the house they made it feel more inviting and noticeable to people who come by our house. They thought we got new paint and new
Franz C.