Soapstone Repair and Restoration | Hudson Valley, NY
Professional Soapstone Care and Restoration
Some homeowners love the natural, untreated soft-gray look of soapstone. If you want to skip the mineral oil or wax applications and start with a like-new lighter finish, professional resurfacing will be necessary. Other homeowners prefer the look of color-enhanced soapstone. Either way, the stone restoration professionals at Nadoka Luxury Cleaning can achieve the results you have in mind for your soapstone. We can also resolve soapstone problems such as chips, cracks, and scratches that are too deep to be sanded out by hand.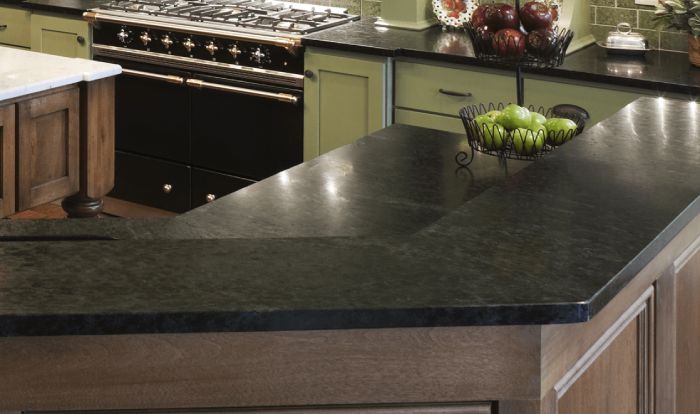 A Little Bit About Soapstone…
Soapstone is an underrated high-performance countertop material composed primarily of talc, silicate, chlorite and magnesium. Although it feels soft to the touch, it is strong, durable, and resistant to damage from heat or chemicals. Because soapstone is nonporous, most substances cannot penetrate the surface, which means it will rarely stain. Even after 100 years of hard use, soapstone can be re-finished to a like-new state, as though it had just been installed.
Our Soapstone Services, At-A-Glance
We provide expert interior and exterior soapstone services, for all kinds of properties, from homes, apartments, and condos to offices and other commercial properties, warehouses, retail stores, restaurants, hotels, and more.
Resurfacing
Sealing and enhancing
Scratch removal
Stain removal
Chip repair
Crack repair
How to Care for Soapstone
For the most part, soapstone can be maintained using DIY methods. With age and use, soapstone naturally darkens. To keep give the darkening of soapstone a more even appearance, apply mineral oil or wax. Most scratches can be removed with light sanding. With proper care, soapstone can easily last for many years.
Alkalis and acids found in many foods and drinks are not likely to stain the dense and inert surface of soapstone (which is why it is so popular in labs and science classrooms). Any staining that occurs can usually be remedied with sanding, but if you have trouble removing a stain, our scrubbing and sanding services can quickly and easily remove the stain. Our sealing services can also help inhibit staining.
Is your soapstone damaged? Does it need to be resurfaced? If you are in the Hudson Valley area or any of the other areas we service and your soapstone needs some professional attention, contact us online or call (845) 201.0080 for a free estimate. We look forward to hearing from you!
TESTIMONIALS AND REVIEWS
Our Clients Say It Best...
Take a moment to see what our clients tell us and tell the world about us.
Richmond Aidoo arrived with a smile, got set up quickly, was thorough in his cleaning, neutralizing and sealing our kitchen countertops (black granite and pegmatite). He then completely polished them
Susan Glusica
I have used Richmond for our office for 6+ months now. Top notch service and unbelievably clean. And excellent prices for the service. my only mistake is not using them
James B.
Nadoka Luxury not only cleaned the house they made it feel more inviting and noticeable to people who come by our house. They thought we got new paint and new
Franz C.